Next to be added to our collection is the 'open robe', seen in Sense & Sensibility and commonly referred to as The Picnic Dress. I've seen dressmakers call this as a half-robe, however Norah Waugh in
'The Cut of Women's Clothes'
refers to it as an open gown.
I am considering using the pattern of an open gown c. 1795 from the Victoria and Albert Museum that Norah Waugh published in her book,
The Cut of Women's Clothes
and the drawstring gown from Jennie Chancey's collection.
The Gallery of Fashion at
http://locutus.ucr.edu/~cathy/heid/heid.html) shows the open robe worn as an outdoor garment.
"Robe a la Turque"
[below]

is from November 1794 and is a nice example of an afternoon dress.


Empress Josephine [below] wore a sleeveless open robe at her coronation in 1806.


1808 Princess Borghese
Fashion on the Ohio Frontier: 1790-1840.
"Dress (open robe) [English] (C.I.37.46.1)". In
Timeline of Art History
. New York: The Metropolitan Museum of Art, 2000–.
http://www.metmuseum.org/toah/hd/dreh/ho_C.I.37.46.1.htm
(October 2006)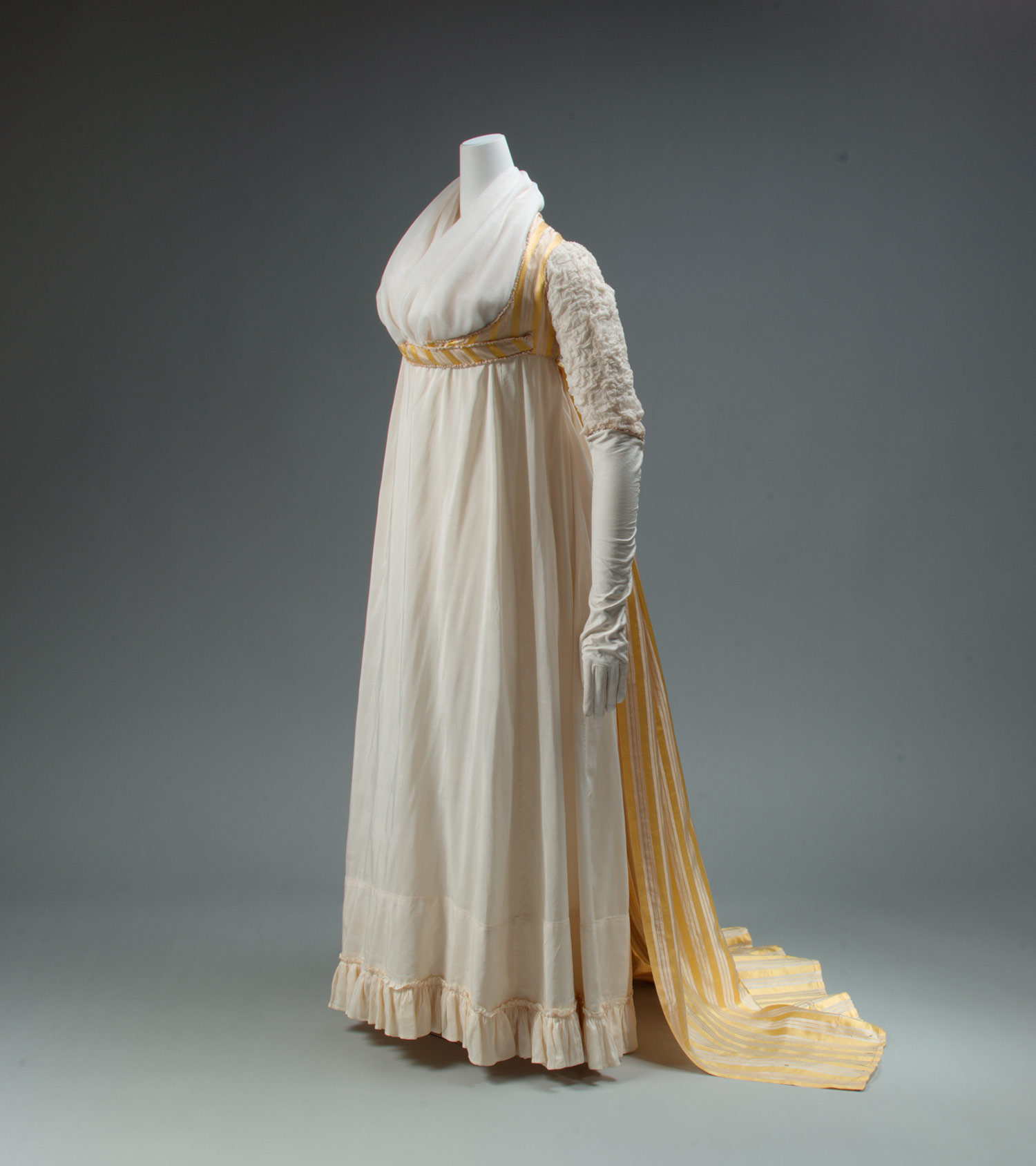 Below is a
Wedding dress in 2 parts (overdress) dated
about 1799
Marblehead, Massachusetts, United States
Center front: 134.6 cm (53 in.)
Center back: 177.8 cm (70 in.)
Dress: silk satin, embroidered with silk and metallic thread, silk trim;
Petticoat: cotton mull embroidered with silver

Classification: Costumes
Object is currently not on view
Wedding dress in two parts, worn by Eunice Hooper at her marriage to her cousin John Hooper, in Marblehead, Mass. Overdress of white satin (now cream colored), short waisted, surplice line in front, open down entire length of front, fullness in back in narrow pleats caught to high waist line, hanging free to form train, elbow length sleeves trimmed with folds of georgette crêpe caught with circlets of artificial pearls. Shoulder, center,and side back seams, edges of sleeves, and entire edge of overdress except for train finished with white silk fly fringe.
Museum of Fine Arts, Boston
Gift of Mrs. Ward Thoron, 1948
Accession number: 48.1198a
Provenance/Ownership History:
Gift of Mrs. Ward Thoron, to MFA 1948